Online AU/NZ provide hosting plans to suit most budgets.
Our websites are hosted on a devoted server and are very reliable with 99.9% up-time ... guaranteed ... or your money back!

We also provide some of New Zealand and Australia's cheapest hosting.


Why? Because we can design hosting plans to suit your needs, as well as pre-packaged plans.




Therefor you won't pay for all the extras you don't use.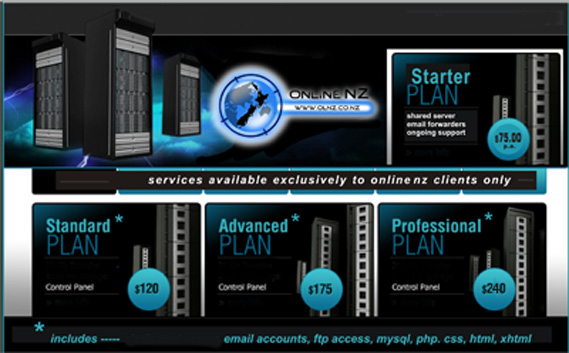 We are able to provide hosting to all our Online AU/NZ clients at a discount rate starting from as low as $1.50 per week.
We also have several other hosting plans available where you can have your own control panel, ftp access and data storage, etc.
As a member on online nz you can be assured that your website will be heavily promoted with our top of the line inbuilt SEO (search engine technology) and by promotion through our nationwide online shopping mall. Click here to see an example page of our community promotional website.
To become an Online NZ client all you need to do is purchase a one page promotional listing on online nz and we will do all the hard work in promoting your website.
We also offer SEO Professional packages to clients that wish to achieve Page #1 rankings in Google ... guaranteed!!
Contact us for more information.
We can find the right hosting and domain plan for your business needs, whether it be a domain name and several email addresses to a large website and many email addresses.
We provide our own hosting in New Zealand and Australia to ensure sure your website is hosted at the right price.

Please feel free to contact us for a new domain name & hosting or to transfer from your existing hosting company.
Most of our hosting plans includes php, java support , mysql, sub domains & multiple email accounts. We use unix servers but windows ones can be used if cold fusion scripting is required.
You may also wish to consider purchasing a domain name for your email addresses, for example [email protected] Contact us and let us know your preferred Domain Name.